Perfect Coffee Pods have opened up a new world of possibilities. I haven't had an increase in heartburn or any stomach issues.
— Katherine
Never had a cup of coffee that is this easy to drink. Perfect goes down so smoothly and gives me the energy I need.
— Gabi
Unbelievable aroma and bold flavor - just how I like my black coffee. I like it better than Starbucks, honestly.
— Michael
A NATURALLY DELICIOUS & PURE COFFEE
Completely pure, Perfect Coffee contains no toxins, pesticides or chemicals – not even those typically found in the environment. What you will find in a cup of Perfect is plenty of antioxidants and chlorogenic acid.
WHY CHOOSE PERFECT COFFEE?
Not all coffee is created equal. Grown on the high-altitude hillside of Quetzaltenango, Guatemala,this 100% Organic and Fair Trade Arabica brew is produced from the finest coffees in the world.
A team of Brewmasters source single-origin coffee from Fair Trade certified farmers to find the PERFECT brew.Made in a facility powered by 100% solar sun power, Perfect Coffee is sustainable for both the people and the planet.
Drink your coffee, get a clean energy boost. It's THAT simple!
ORGANIC & FAIR TRADE
Certified USDA Organic + Fair Trade coffee grounds, made from 100% Organic Arabica beans.
LOW ACID
A low acidity coffee that is gentle on your digestive system for easy sipping.
CHEMICAL-FREE
Free of mycotoxins and pesticides,Perfect Coffee is as clean and pure as it gets.
ANTIOXIDANTS
Chlorogenic Acid antioxidants found in coffee are shown to protect and maintain overall cell health.
Shop Now
Formulated by a Registered Dietitian
Perfect Coffee was researched and developed by VitaCup's Chief Vitamin Officer and Registered Dietitian, Brianna Harris.
Brianna works with our Brewmasters to ensure every batch is crafted with the quality and taste you've come to love from VitaCup.
Enjoy the aroma and taste of silky smooth, single-origin dark roastPerfect Coffee Pods.Sourced from 100% Organic Arabica beans and ground fresh to give you the PERFECT cup of coffee.
Ideal for everyday coffee drinkers, especially those with sensitive stomachs who are looking for a clean,pure energy source from low acid, chemical & pesticide-free coffee. Sip on this smooth,dark roast knowing your gut health is in good hands.
Shop Now
DID YOU KNOW?
Did you know most coffee contains levels of acid that may lead to tooth decay or discoloration, as well as gastrointestinal issues like bloating, heartburn, and indigestion? Luckily, our smooth and rich dark roast organic beans are low in acid, making them "perfect" for your digestive system and oral hygiene.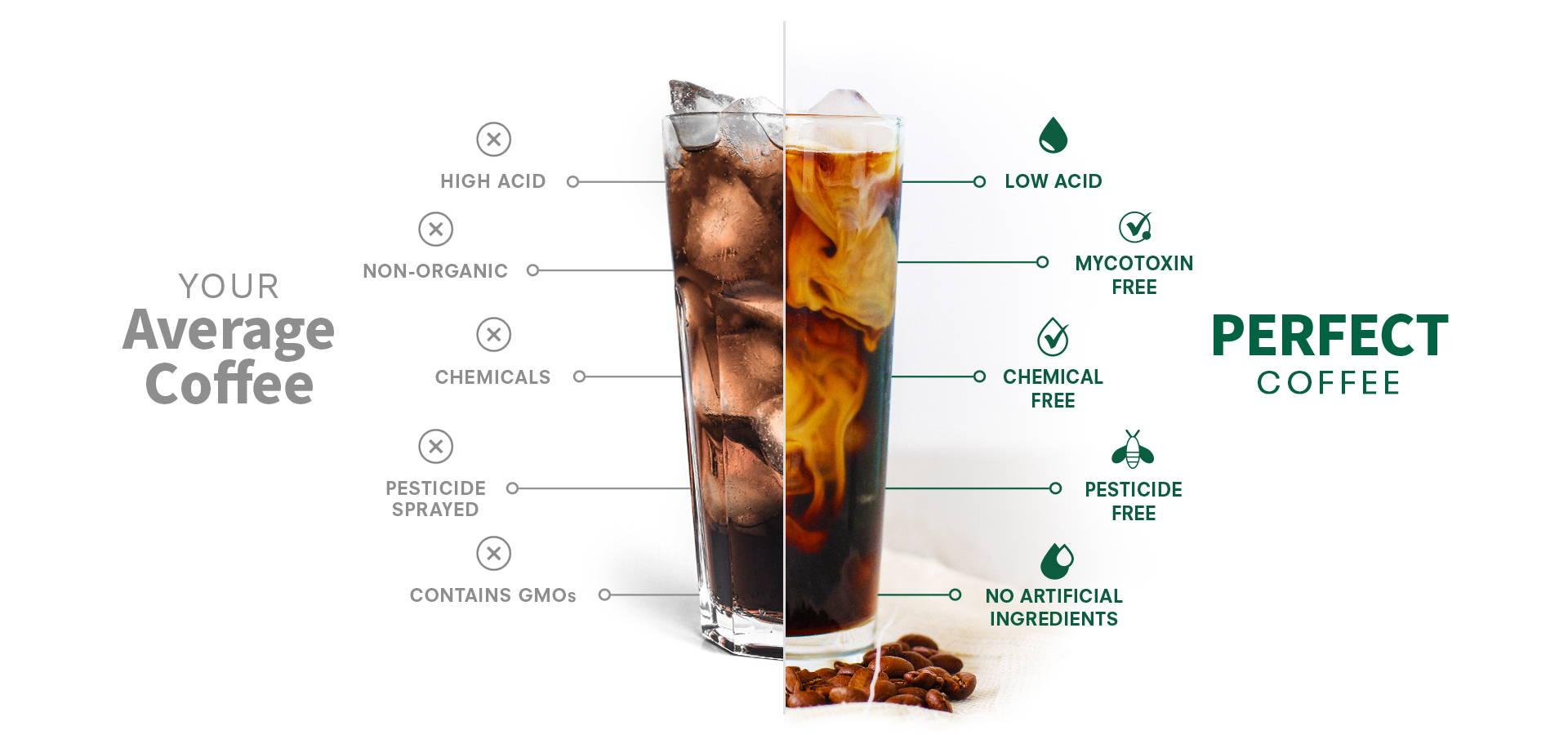 Enjoy your favorite way to get your caffeine without sacrificing your health with our low acid Perfect Coffee.
Shop Now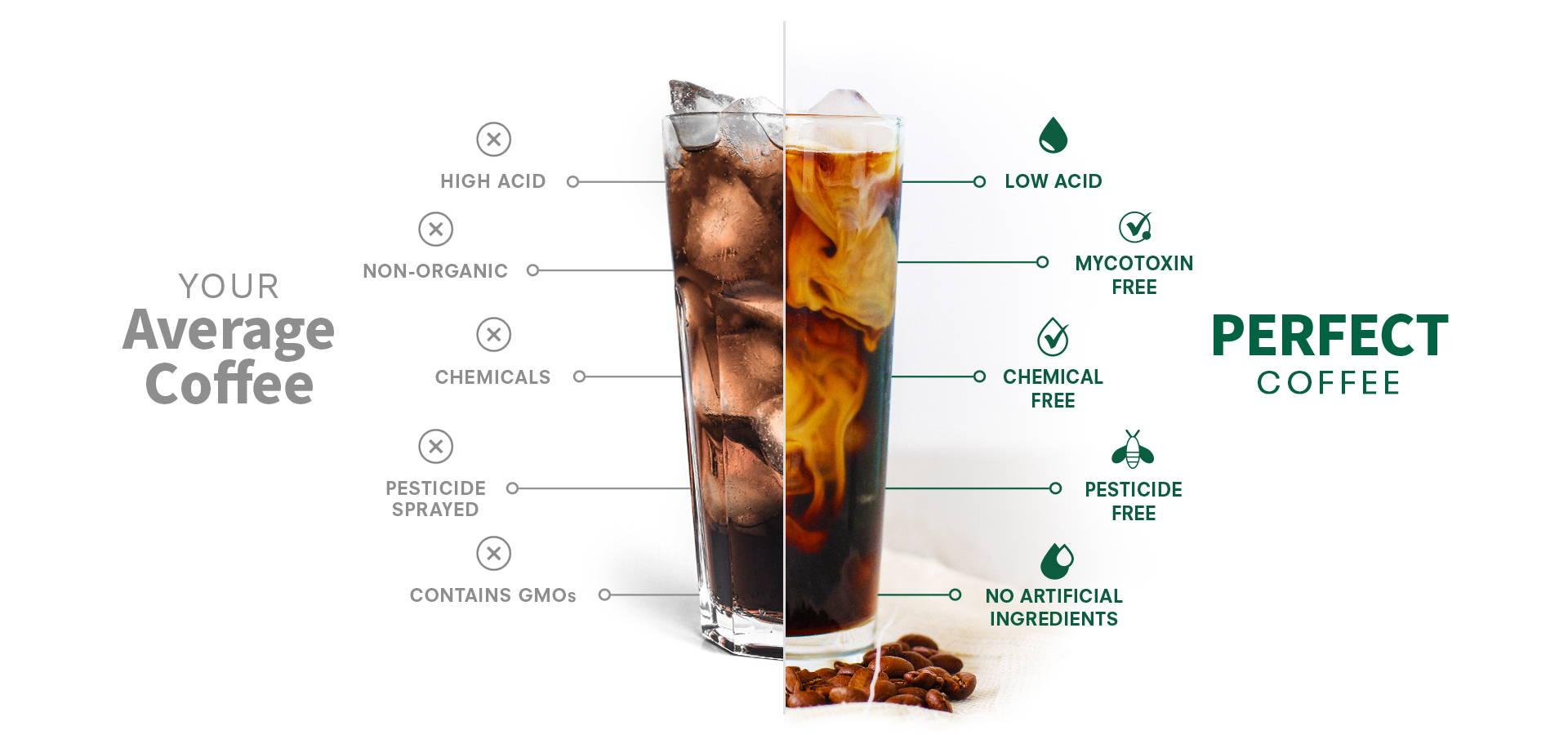 SIMPLY BREW, SIP, AND feel the boost
All the energy, flavor, and antioxidants
you need in just 1 cup of coffee.
WHAT CUSTOMERS ARE REALLY SAYING...
THIS WEEK ONLY
Save Up to
30% OFF
Your exclusive offer is automatically applied at checkout. And don't forget about our money-back guarantee.
MAKE THE PERFECT CHOICE.
Order Perfect Coffee risk-free today!
We offer a 45-day 100% money-back guarantee, no questions asked!. That's right, if you don't LOVEPerfect Coffee we'll refund your money.
Frequently Asked Questions
Contact us if you have more!
How is Perfect Coffee different from your other coffee products?
Perfect coffee is just 100% coffee beans with no added vitamins or other superfood ingredients.We source this specialty grade coffee bean from high altitude farms in Quetzaltenango, Guatemala.These specialty grade coffee beans brew to a delicious and clean cup of coffee.
Is Perfect Coffee organic?
Yes, this blend is 100% Organic certified through QAI & is also Fair Trade.
What is "single-origin"?
Single-origin means we purchased Perfect specialty coffee beans from a single region in Guatemala.
What are mycotoxins?
Mycotoxins are toxic compounds that are produced by mold that has grown on coffee beans.
How to brew Perfect Coffee?
Load single serve pod into machine, choose 8 fl oz option.Place the mug below the beverage outlet. DO NOT REMOVE FOIL SEAL BEFORE BREWING. Allow pods to cool before removing them to recycle. t!