Extra Shot Instant Coffee
ESPRESSO + COFFEE
Maximize your energy and get more done with this deliciously bold, dark-roast instant coffee infused with espresso and B12 for extra caffeine and antioxidants. Sealed in individual packets for fresh flavor and convenience you can't beat!
"This is the best coffee hands down! The taste is bold and not overbearing. My new favorite way to drink espresso."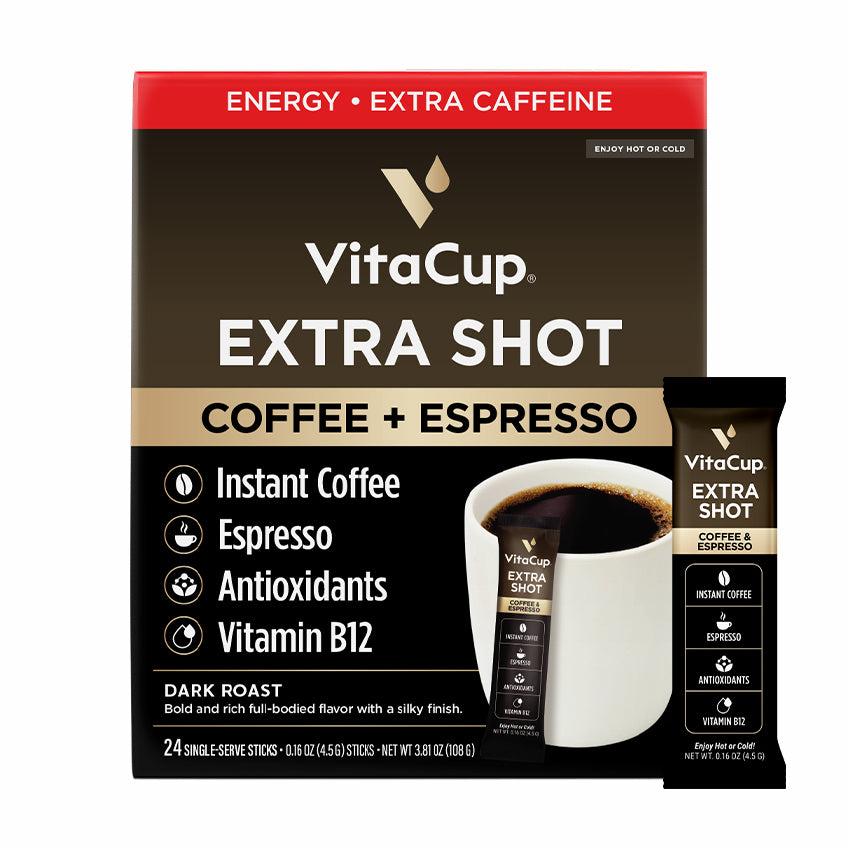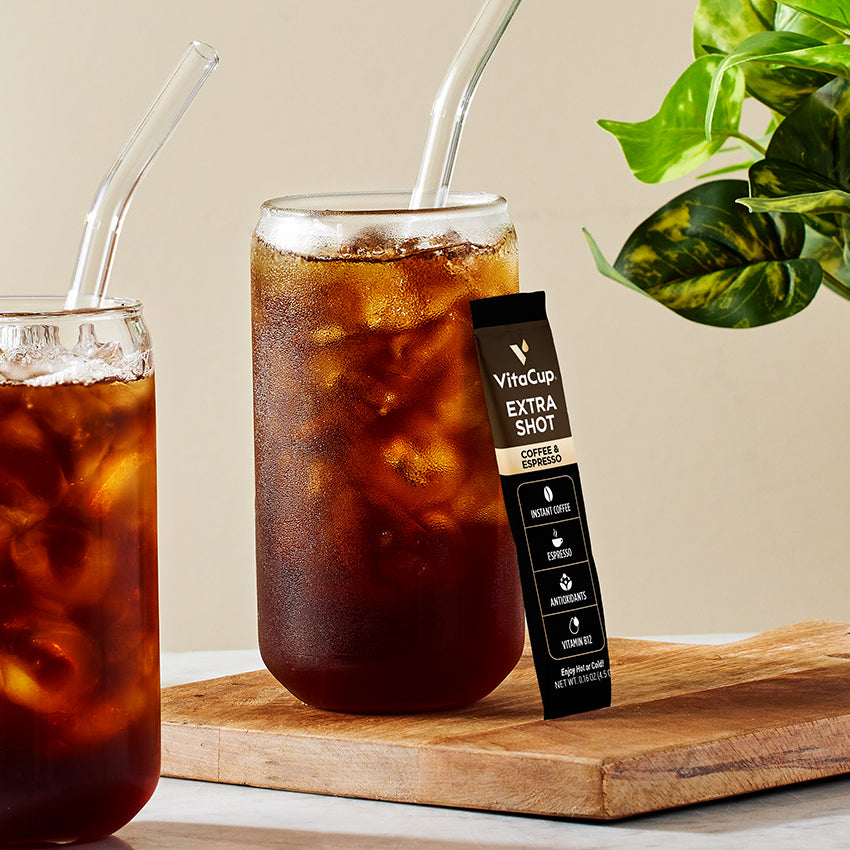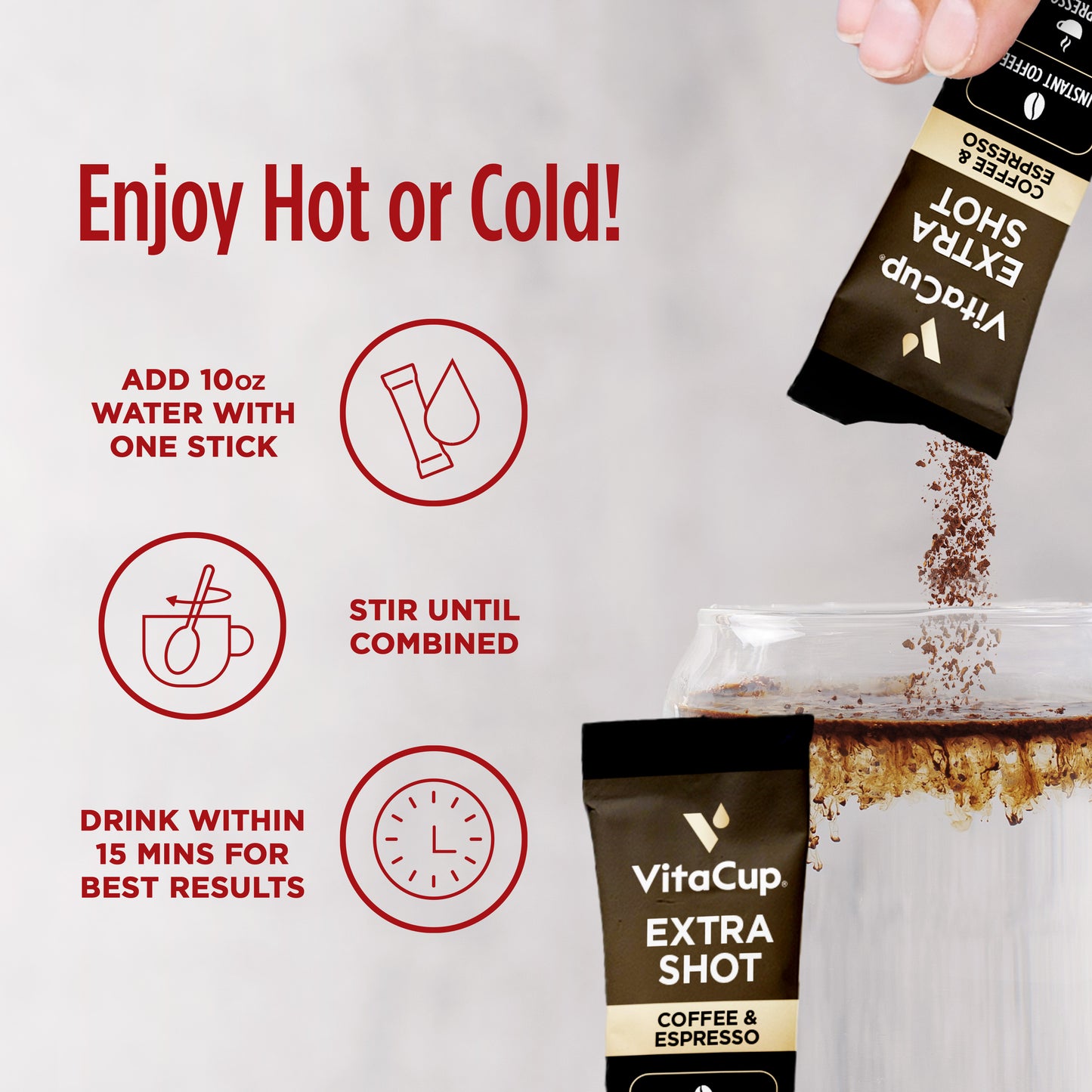 Benefits of Daily Use
150mg of Caffeine
Each packet is crafted with premium coffee and espresso, providing 150mg of caffeine; 50% more than a regular cup of coffee!
Antioxidant Boost
Antioxidants are known to combat harmful free radicals and support cell health.
Energy & Immunity
We use a unique water-soluble methylated B12 to help increase energy and metabolism for maximum multitasking.
High in Caffeine
Delicious Dark Roast
Bold and rich, this full-bodied dark roast coffee is made with premium coffee, an espresso shot, and our unique water-soluble methylated form of B12. You'll love the smooth, bold, and rich flavor with a hint of toasted nut and silky finish. Extra Shot Coffee is the perfect companion for the doers, the adventurers, and the thrill seekers.
Premium Coffee
Crafted with Robusta and Arabica dark roast coffee beans for a rich, creamy coffee that boasts an espresso shot for a luxuriously smooth finish.



Extra Caffeine
Extra Shot Coffee packs a punch with 150mg of caffeine - the ultimate pick-me-up for go-getters, adventurers, and thrill-seekers.
Antioxidants
The combination of coffee and espresso provides a boost of antioxidants, a natural compound known to combat harmful free radicals and maintain good cell health.
Vitamin B12
B12 is a water-soluble essential vitamin that is crucial for a balanced immune system while providing natural energy and metabolism support.
Frequently Asked Questions
How is Extra Shot Coffee different from your other coffee blends?
Extra Shot Coffee is a bold, full-bodied dark roast coffee with additional caffeine from espresso coffee powder. Each packet contains approximately 150mg of caffeine to fuel you through your day.
How much caffeine is in each serving?
While a regular cup of coffee contains 100 mg of caffeine, Extra Shot Coffee has 150mg of caffeine per stick based on an 8oz cup.
Yes, all ingredients are vegan! Our methylated form of B12 is plant-based.
What vitamins are in Extra Shot Coffee?
We use a plant-based form of vitamin B12, making it great for vegans and vegetarians.