Hydration Matcha Instant Sticks
MAKE HOT OR COLD!
Experience the perfect pairing of matcha and hydration. Hydration Matcha Instant Sticks are crafted using First Harvest Ceremonial Matcha, Evaporated Coconut Water, Aquamin Mg®, and Himalayan Pink Mineral Salt. 
The specialty blend delivers balanced energy, harmonious focus, and enhanced hydration, perfect for active lifestyles.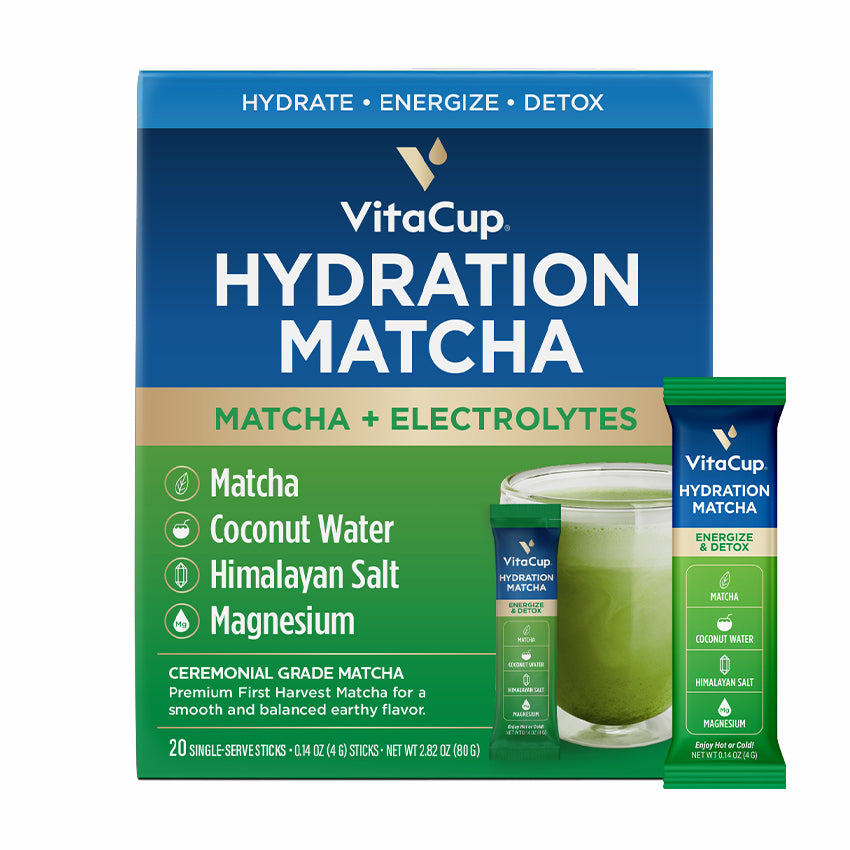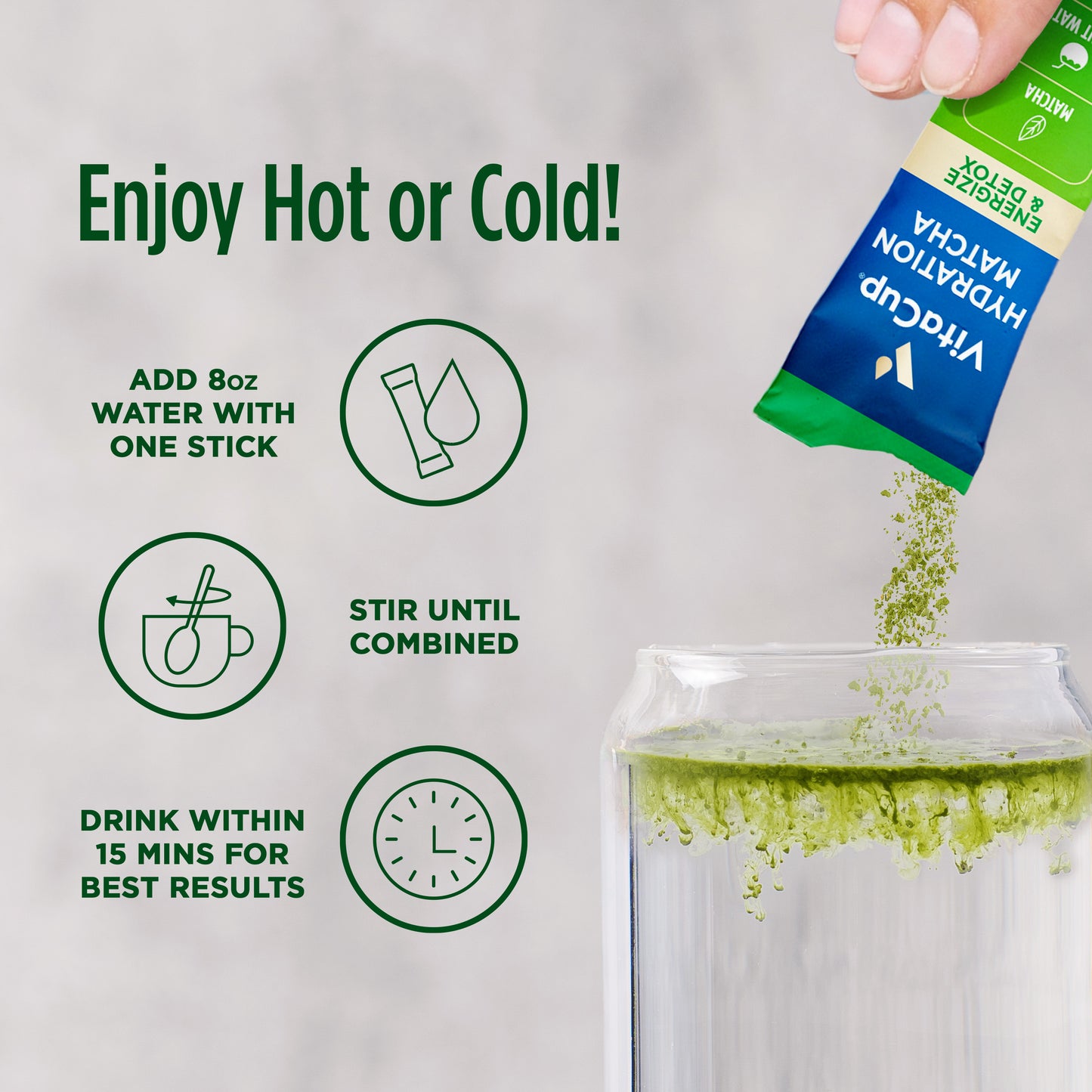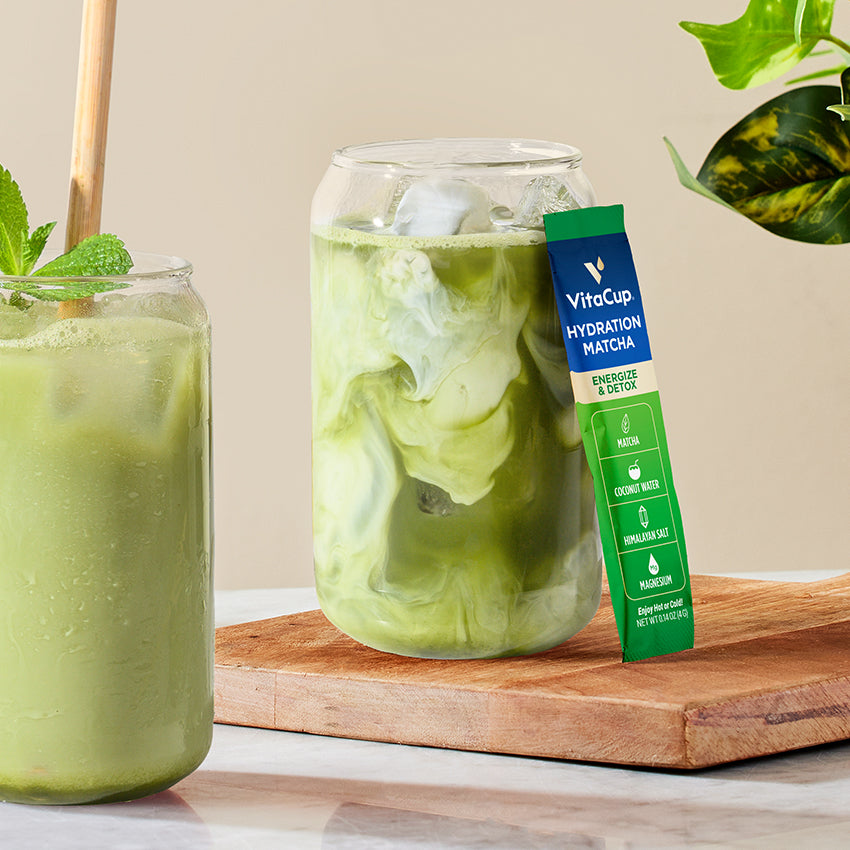 Benefits of Daily Use
ELECTROLYTE & MINERAL BOOST
Each stick contains naturally derived electrolytes and trace elements like potassium.
NO ADDED SWEETENER
With only 2 grams of sugar and no added sweetener, Hydration Matcha contains less sugar than other hydration beverages on the market.
TRAVEL-FRIENDLY INSTANT STICKS
Packaged in convenient, single-serve packets that preserve the freshest aroma and flavor for your favorite elevated matcha anywhere, anytime.
The Best-Tasting
Hydration Matcha
Deliciously smooth and balanced, Hydration Matcha replenishes your body with an infusion of electrolytes and key minerals such as potassium and magnesium for full-body restoration. With no added sugar and no artificial flavors, this organic matcha beverage will elevate your day while providing clean energy and a calm, focused mind.
Organic Matcha
Premium ceremonial grade matcha is sealed in individual packets for fresh flavor that tastes better than a coffee shop, while giving you ultimate convenience.

Travel-friendly instant sticks you can bring anywhere; take these in the car, office, gym, and airplanes!
Hydrating Coconut Water
We chose to extract juice from young coconuts, which provide a more refreshing flavor with effective rehydrating properties.

Coconut water is a natural resource of potassium which may help nourish your nerve, muscle, and cell health.
Aquamin Magnesium
Aquamin Mg® is a great choice as it's easily absorbed by the body and contains 72 trace elements for healthy organic function.

This is a naturally sourced form of magnesium that's derived from the clean waters off the Irish coast.
Mineral Pink Himalayan Salt
A clean source of sodium is essential for fluid balance to regulate nerve transmission and muscle contractions.

Pure Himalayan Pink Salt from the mountains of Pakistan is used for its sodium and chloride minerals. Untouched by pollutants or toxins, the mineral-rich salt takes your hydration to a new level.
Frequently Asked Questions
What type of matcha is in Hydration Matcha?
We use an organic ceremonial grade matcha that is first flushed and shaded. This matcha is grown in the Jeju Islands which are known for clean air and water, resulting in. higher levels of antioxidants.
How much caffeine is in each serving?
There is approximately 50mg of caffeine per serving.
Is Hydration Matcha vegan?
Yes! All ingredients used are 100% vegan.
Where do the electrolytes come from?
The electrolytes are naturally sourced from tea, coconut water, pink Himalayan salt, and Aquamin Magnesium®.
How do I make Hydration Matcha?
The options are endless! You can make a classic matcha, turn this into a matcha latte, or even add it to protein shakes and smoothies.
See below for delicious ways to make our Hydration Matcha.
A Matcha Made in Heaven
Hot Matcha
8oz
1 Stick
Mix or froth until dissolved. Add sweetener if desired.